BUSINESS CARD PRINTING IN EDMONTON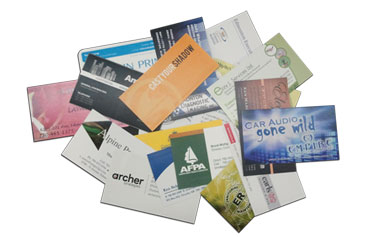 One of the most powerful marketing weapons is your business card. There are many ways that a company or person can attract customers to one's business. Some may launch a marketing campaign in the form of an ad in the paper or on a billboard. Some don't use marketing at all and just flourish through word of mouth.
Business cards help you present a good company image by highlighting the services provided by your business and they can also help to enhance the personal image of a business person. Your business card should represent the perfect image of your company so that can attract customers to your business. It is the one item that will be remembered on that first encounter! Having a design that does not reflect what you do, could have a negative impact on your business sales. So it is to your advantage to start looking into firms that provide affordable business card printing in Edmonton.
Business card print and design
Leave the business card design and business card printing to Sundial professionals and use you time doing what you do best ... selling your product or service! For affordable business card print in Edmonton, look no farther than Sundial Graphics.
Price
250 Business cards only $29.00, printing in full color, single sided, 120 lb Matte or Glossy Stock (no design included). Contact Sundial Edmonton for more information.
View our more printing services and our Identity Packages.